The fast-growing HVAC market is expected to reach 367 billion US dollars by 2030. So to outrank the competitors, the HVAC techies are expanding their tool kit beyond screwdrivers and drills.
We already know that mobile apps have become an integral part of everyone's lives in today's modern world. With technology, we have made every application easily accessible on our handheld devices, and it is not restricted to the HVAC industry.
To stay competitive, HVAC techies use HVAC business apps, HVAC learning apps, HVAC troubleshooting apps, and other such kinds. But among other necessary apps, the troubleshooting apps are the most crucial as any HVAC tech person needs to detect and solve the problem with a tap on their smartphone.
So no more carrying big tools or using manual methods to troubleshoot HVAC issues in the system. Rather you can use your mobile app and fix the issue quickly and efficiently. You will find the 14 best HVAC service tech troubleshooting apps listed in this article that can help ease different processes in HVAC businesses.
In-detail Review of Top 14 HVAC Troubleshooting Apps in 2022
ServiceTitan

iHandy Level

HVAC Buddy

iManifold

Bluon HVAC

HVAC Duct Sizer

HyTools

HVAC School

HVAC Practice Test

HVACR Fault Finder

HVAC Check and Charge

Gemaire HVAC Contractor Assist

MeasureQuick HVAC

Air Lite Psychrometric Calcs
1. ServiceTitan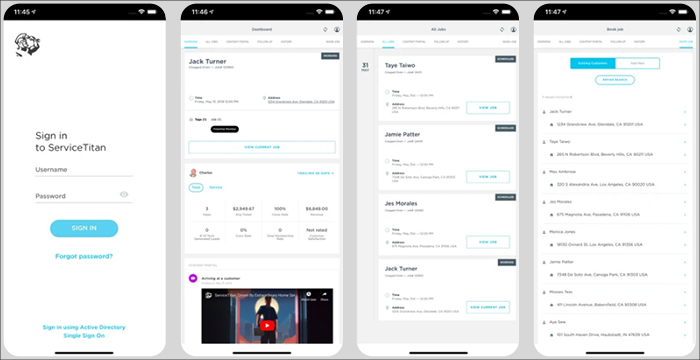 You will face several critical challenges while running an HVAC business. But don't worry! ServiceTitan, one of the HVAC service tech troubleshooting apps, offers a range of services to ease all sorts of challenges.
For instance, an HVAC system stopped working due to overload. Sometimes ceiling height, presence of people, windows and doors in a room, and sunlight in the room get, overloads the AC compressor and cause a technical malfunction in the cooling system.
Hence, you must calculate the proper BTU range of an HVAC system for any dwelling. Here you can use the ServiceTitan HVAC Load Calculator to point out the technical issues and how much load you should reduce to make the system work again.
The efficiency of the HVAC system also depends on duct size, and calculating the ideal dimension of the duct by required airflow is a chore. Luckily, ServiceTitan has launched an HVAC Duct Calculator app; that lets you input multiple parameters to find the proper size according to the construction site of your project.
That means no need for manual calculation, worrying about wrong measurements, and waiting for troubleshooting tips. You can download the app from iOS and Android stores and avail the services of ServiceTitan. With 24/7 customer service and a comprehensive FAQ section, ServiceTitan troubleshoots HVAC issues in just a few clicks.
2. iHandy Level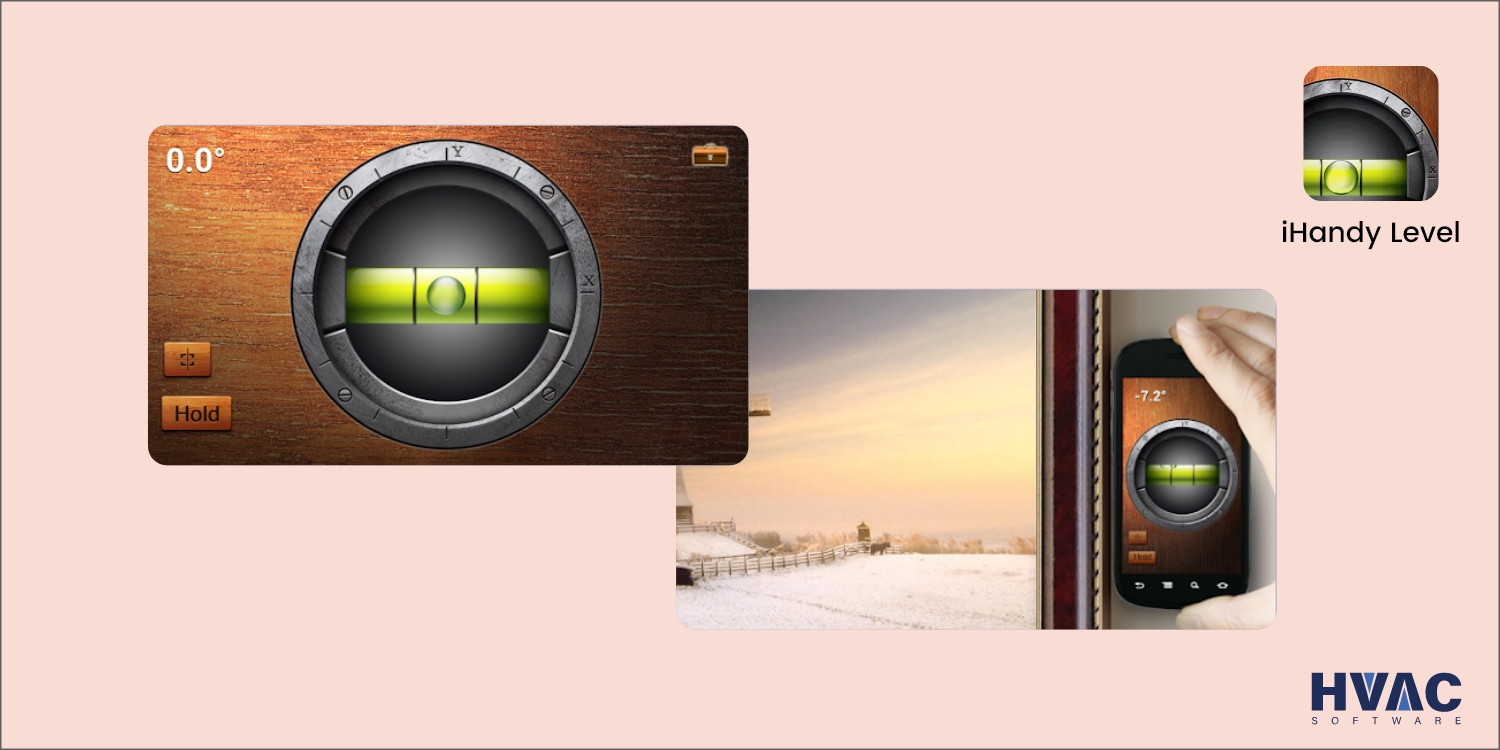 Only when your air conditioners and heat pumps are positioned on the level ground correctly will they function properly.
Though you will find other leveling HVAC apps on the market, the iHandy Level app stands out with its excellent calibration capability. You can avoid minor errors in calibration with this application.
It uses a gyroscope in your smartphone and detects if an edge is on the level. With this application installed on your smartphone, you can work easily around angles, slopes, and verticals.
The numeric display also displays the exact angle of your edge. You need to calibrate the level before using it. Calibrating is quite easy with this application and takes only a few seconds. However, you need to find a flat surface for calibration. You can view the virtual bubble level and lock the level after taking the measurement.
You will find calibration instructions in clear format. Also, to enhance user experience, this application has included fascinating effects like woodgrain and lighting. This application is free and is available for iOS and Android.
3. HVAC Buddy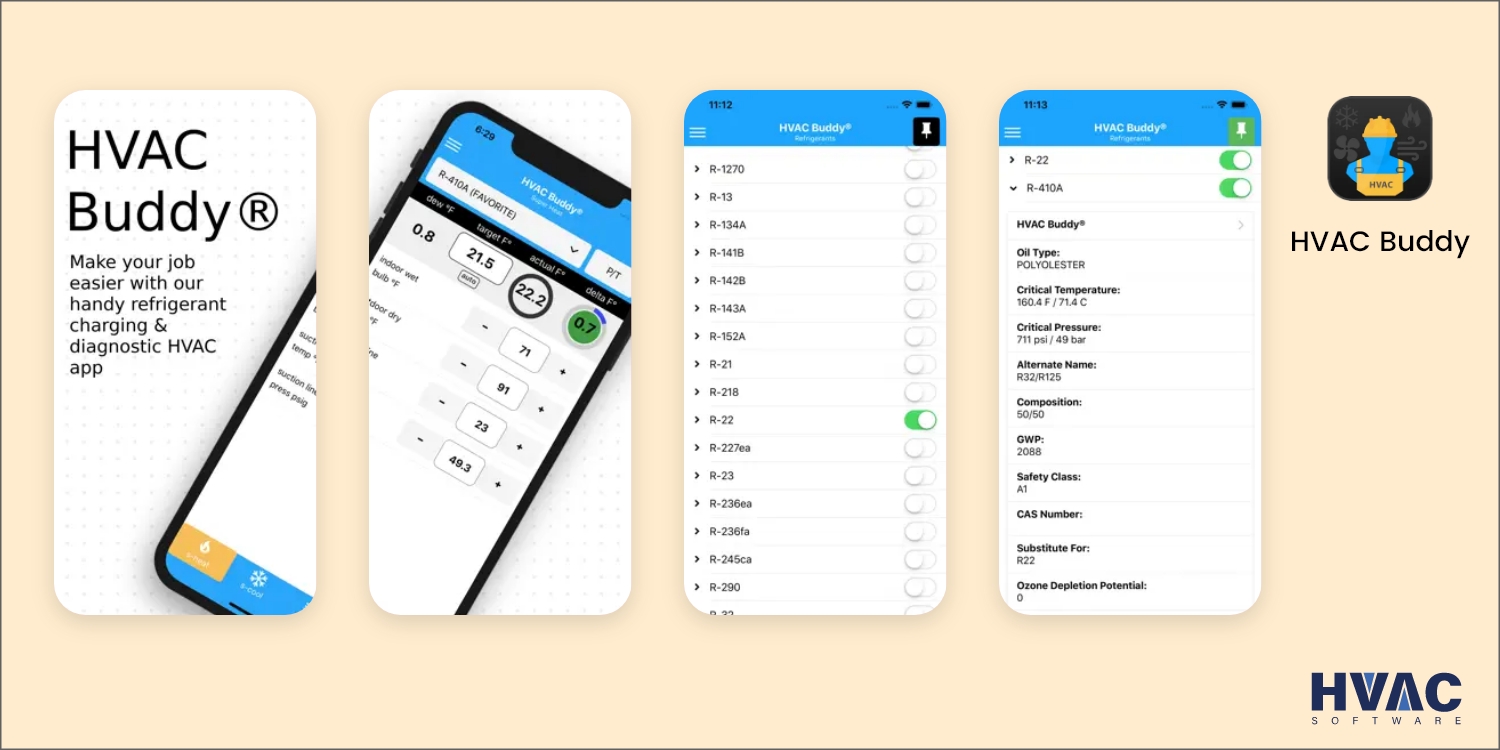 HVAC Buddy is one of the robust HVAC service tech troubleshooting apps that helps HVAC techies to work efficiently and safely. When it comes to refrigerant charging and diagnostic features, this app stands strong. When servicing any HVAC/R equipment, you can use this troubleshooting application to diagnose the application accurately and calculate the correct refrigerant charge.
You just have to enter the refrigerant type, temperature, and pressures on the HVAC app, and it displays the three crucial metrics for "target, actual, and difference" for superheat, supercooling, and airflow. Also, you can directly send the numbers in a report over an email.
This HVAC app charges a one-time entry fee of $9.99 and provides access to HVAC Buddy's entire suite of tools and library information.
4. iManifold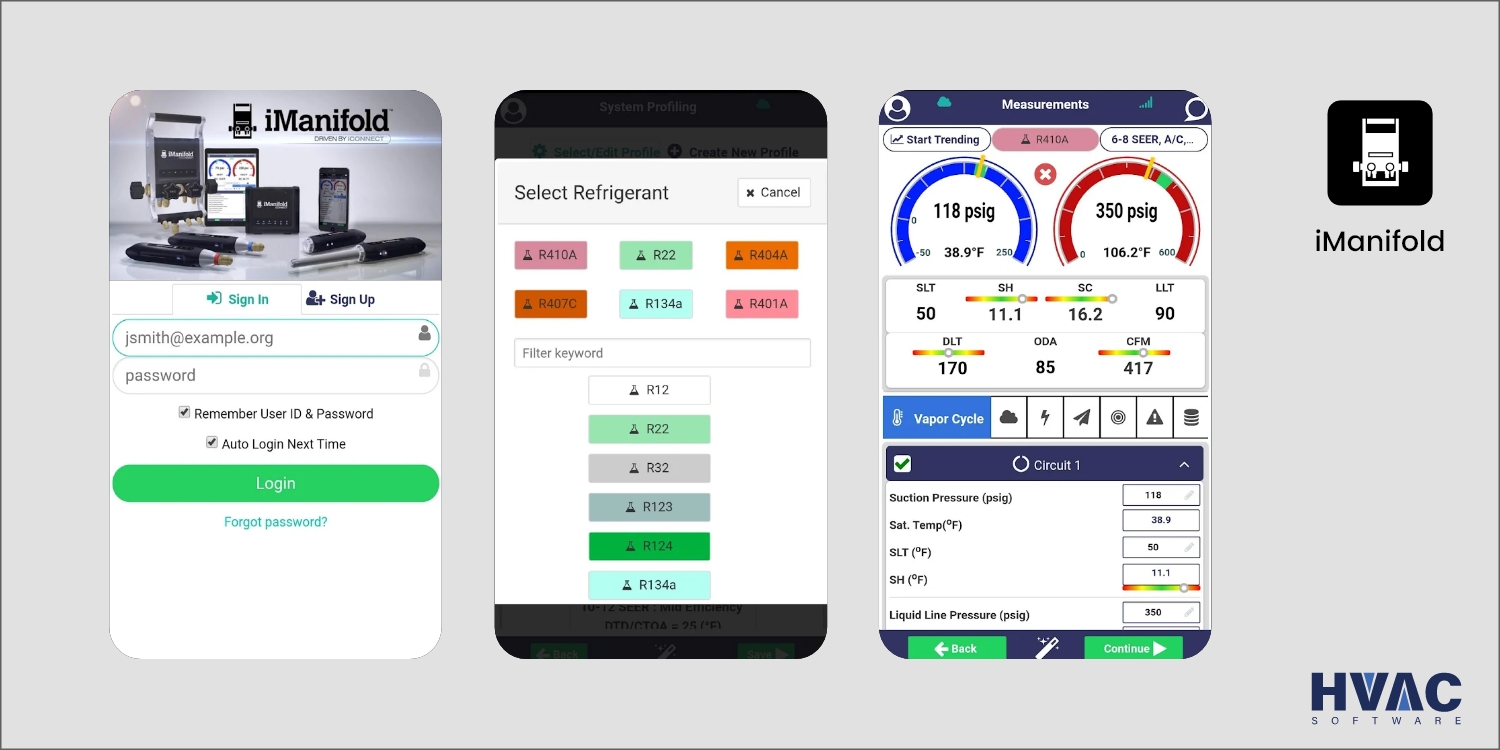 iManifold is a free HVAC troubleshooting app that is best for diagnosing HVAC issues. The application is designed for HVAC technicians to make their work simpler and more efficient.
This complex calculator app calculates HVAC/R system performance and presents the data in an easy-to-read format on your smartphone. Thus, it cuts the need for manual calculations with its gauge set, wireless probes, and cloud to save your time. You can also use this application to troubleshoot malfunctioning HVAC systems. 
The notable part of this iManifold app is it comes in handy with over 40 different refrigerants and equipment profiling options with many common HVAC/R systems in the field. So you can enter a wide range of variables from airflow to line pressure to temperature split, and this application will diagnose the exact issues caused in your HVAC systems.
It allows you to add notes and photos and keeps all your data about malfunctioning HVAC equipment stored in one place.
Though this application is free and available for Android and iOS, it charges an additional fee to access more reports and features.
5. Bluon HVAC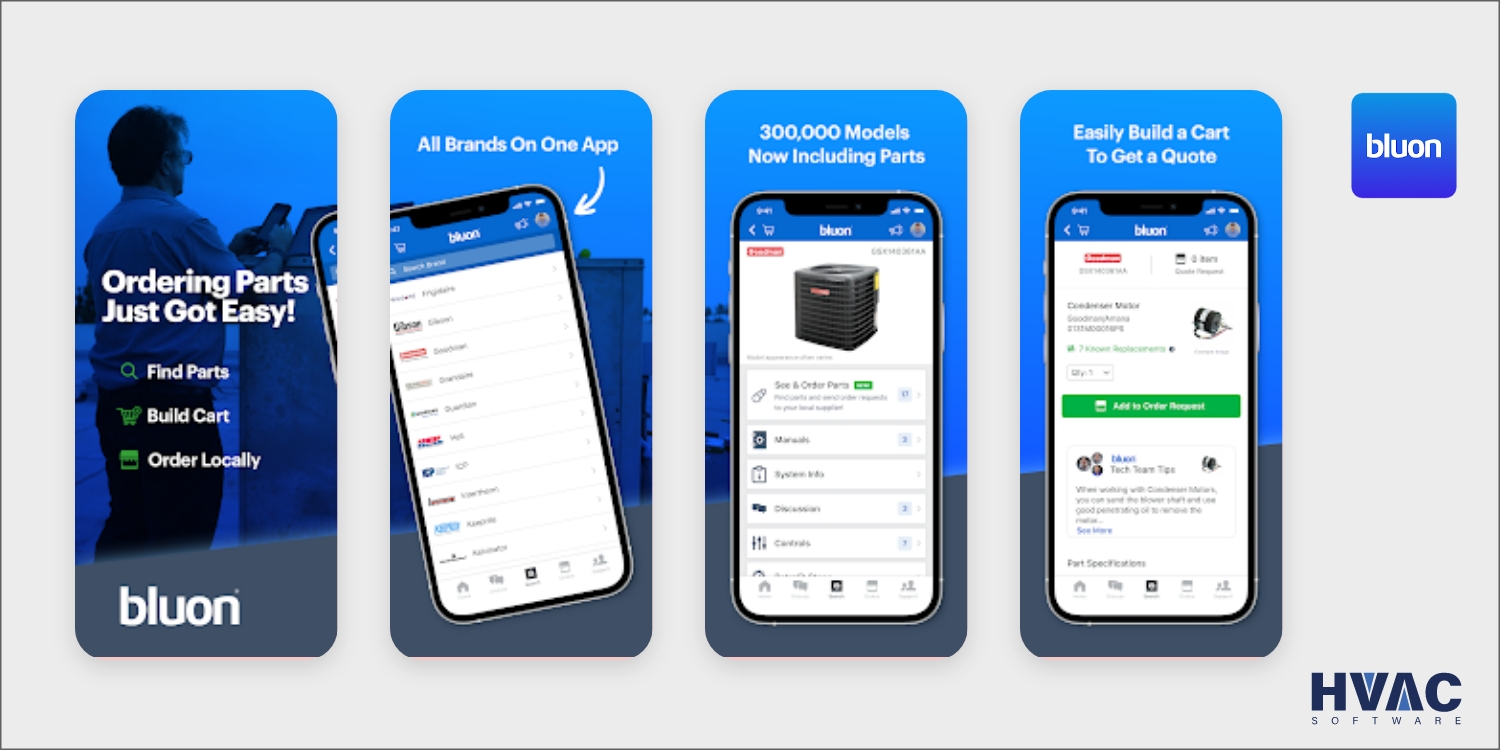 How does an HVAC troubleshooting app with a database of 300K HVAC units with a detailed manual allows to order parts from local suppliers and includes parts and specs for most HVAC equipment modes sound? Isn't it amazing that an HVAC app is solely designed to assist the HVAC technician?
So there is no wonder why the Bluon application has the largest HVAC community on Earth. This is an ideal application for HVAC distributors, contractors, and technicians as well.
This is highly recommended for troubleshooting purposes because of its tech support. You can get your doubts cleared and guided by real veteran HVAC experts and solve any problem in this HVAC industry.
The application consists of a replacement toolbox, which gives access to subcool and superheat calculators, an airflow calculator, a nitrogen pressure test tool, and more. Even if you're not sure about R-22 replacements, you can check the app, as it has included guides and videos to guide you through this process.
The best thing is Bluon application is 100% free for techs and can be installed on your Android and iOS smartphone. This is because the developers are on the mission to empower HVAC technicians with the required tools, training, and support to get the HVAC job done faster and correctly within the given time.
6. HyTools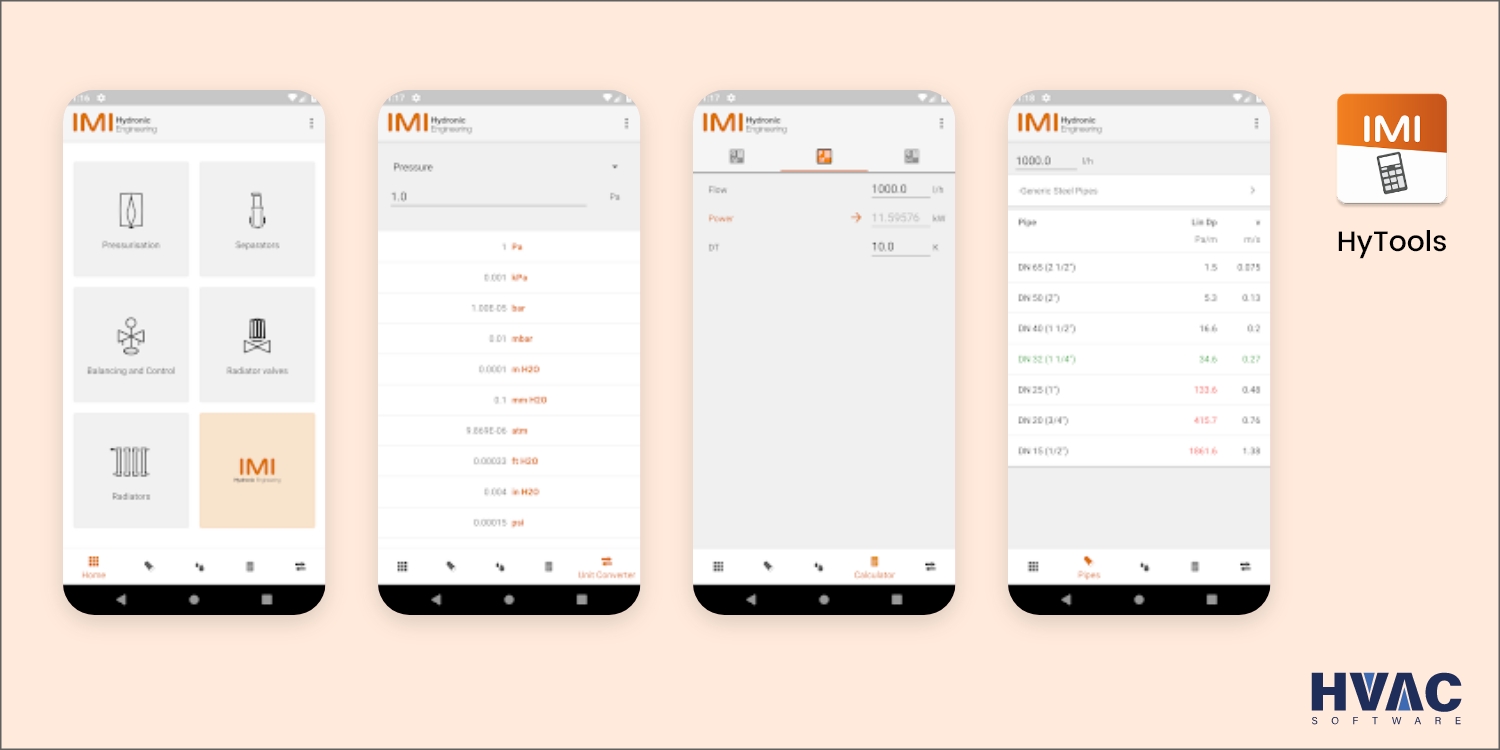 If you are looking to optimize complex hydronic systems, then HyTools can help you out. This application is designed by experts in hydronic distribution systems and room temperature control from IMI Hydronic Engineering International.
This free all-in-one application can help the HVAC technician with hydronic calculation needs. It offers calculations and conversions for HVAC professionals specializing in heating and cooling systems.
Some notable features are Zeparo Dp calculation, Radiator power estimation (panel and column), Valve sizing and presetting, Radiator valve sizing and presetting, Unit conversion, and Pipe sizing.
You can find this application on both iOS and Android Play Stores, and it's free. So go and download this free HVAC app if it suits your requirements.
7. HVAC Duct Sizer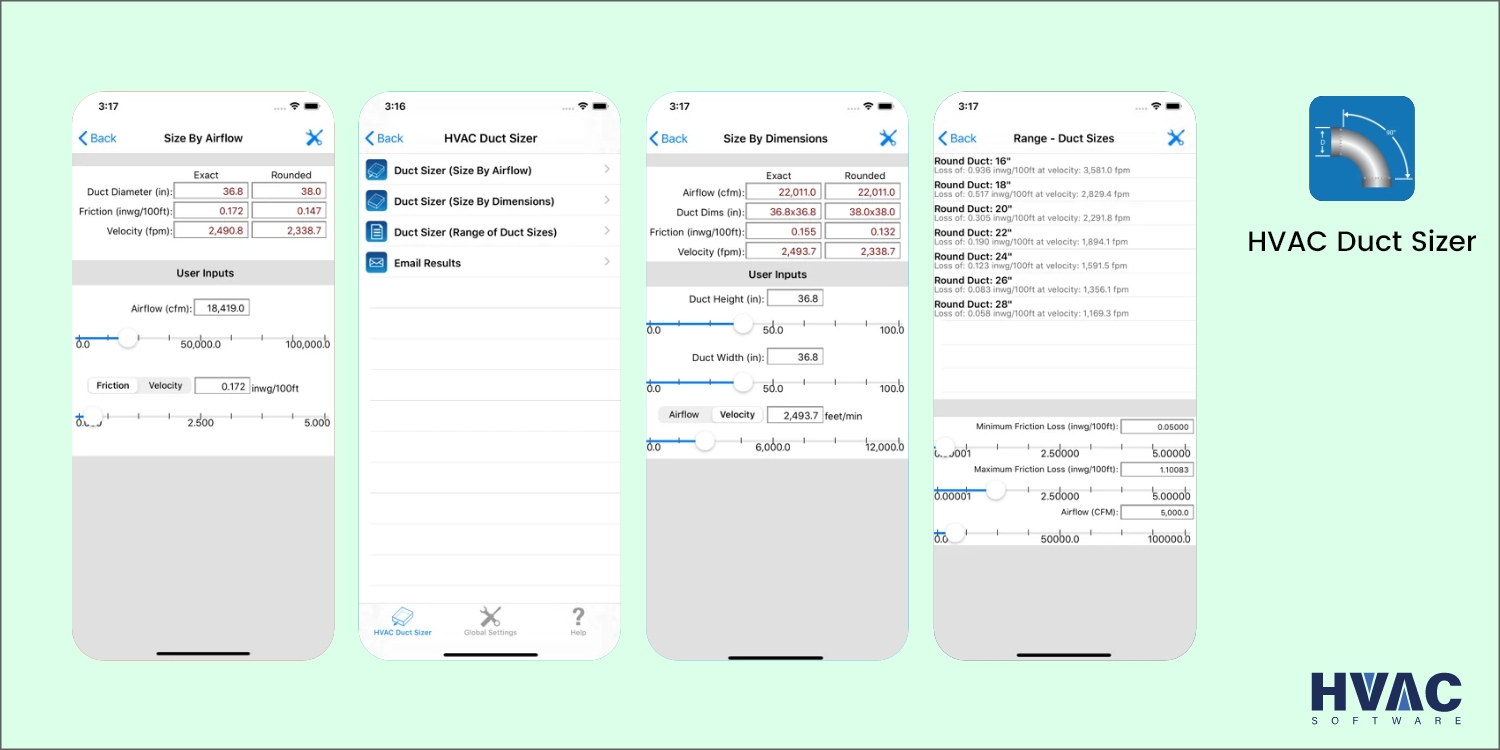 The ducts in HVAC systems are used in heating, ventilation, and air conditioning for two things, to deliver air and remove it. So it is crucial to ensure you install the right sized duct for each house.
With that said, this application helps the HVAC field staff working with ventilation systems to use it to perform the duct sizing work quickly.
This universal HVAC app enables the HVAC technician to enter various parameters to identify the right sizes. You can easily guess the existing duct system using airflow and dimensions.
So HVAC operators can fix any issue after troubleshooting the issue using this application. But this application isn't available for free. Both Android and iOS users need to spend a bit to use it.
8. HVAC School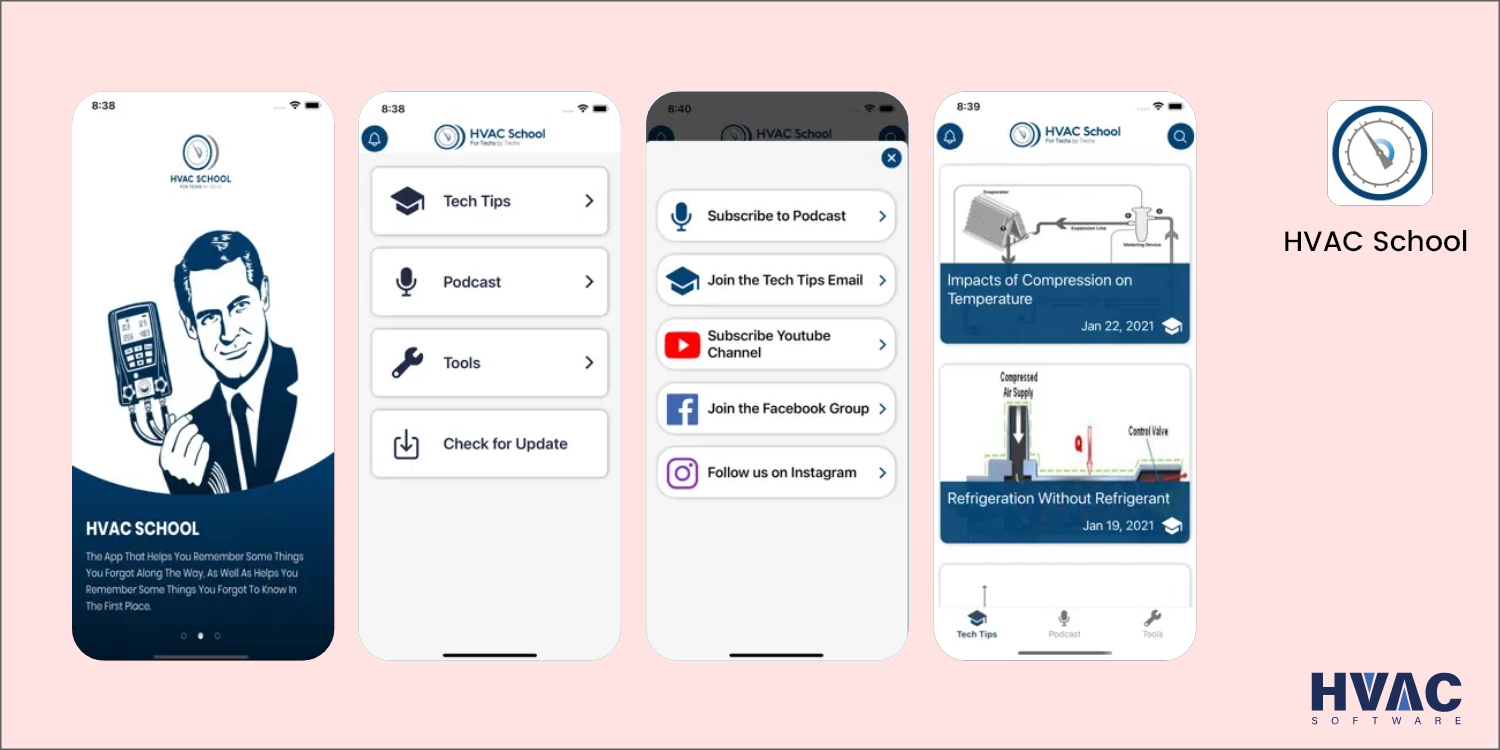 Just started your journey in the HVAC industry? Then you may find it hard to inspect and detect problems, and even if you find out, most solutions are not found in many best free troubleshooting HVAC apps. Have you checked HVAC School?
If not, do it now. This portable HVAC tutor application contains a library of refrigerant information to guide you or remind you of things you may have forgotten. This app is designed for novice HVAC technicians, so it doesn't cost a thing.
Here, you can read articles or listen to the podcast on major topics in HVAC and get a deeper understanding of HVAC mathematics that will help you troubleshoot the problems where you were stuck a few days ago.
9. HVAC Practice Test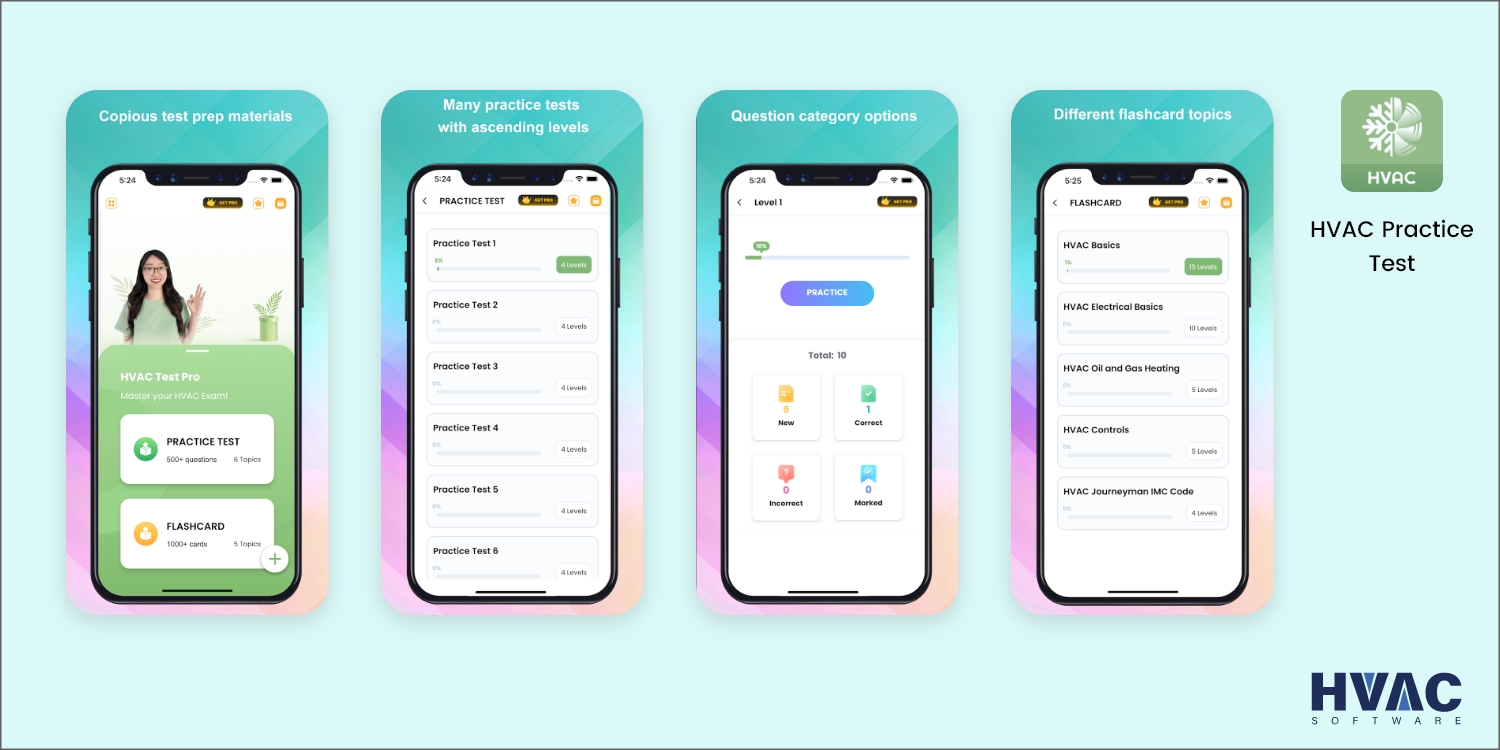 If the podcasts and articles of HVAC School do not cover your issues, or if you don't have time to go through articles or podcasts, you can check the HVAC practice test to get instant solutions.
The expert HVAC tutors have already answered thousands of questions about the common HVAC issues and discussed the latest HVAC trends and technologies.
It is one of the best HVAC educational and troubleshooting apps around; that not only gives real-time solutions. But also helps to stay up-to-date with the latest ideas and terminology in the HVAC field. In the Google Play store, you will find this app named HVAC Test Pro, and in the Apple play store, you will find it as an HVAC practice test.
10. HVACR Fault Finder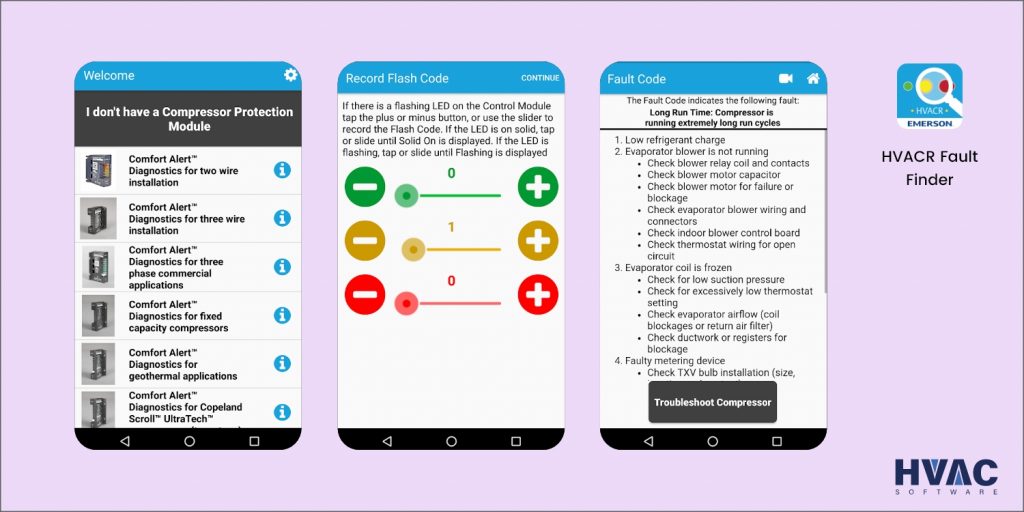 Looking for an exciting app to assist your on-site HVAC compressor troubleshooting work? Then this HVACR fault finder can help you out. This HVAC troubleshooting app helps you easily solve compressor electronic system failures.
Enter your flashing alert code or the tap feature to find the code from the electronic module. This code provides access to the interactive troubleshooting guide.
What is exciting about this application is it gives you troubleshooting tips and tricks, with which one can gain more insights from visual flowcharts for diagnosing system errors. So this is another reliable app for HVAC troubleshooting work available on iOS and Android.
11. HVAC Check and Charge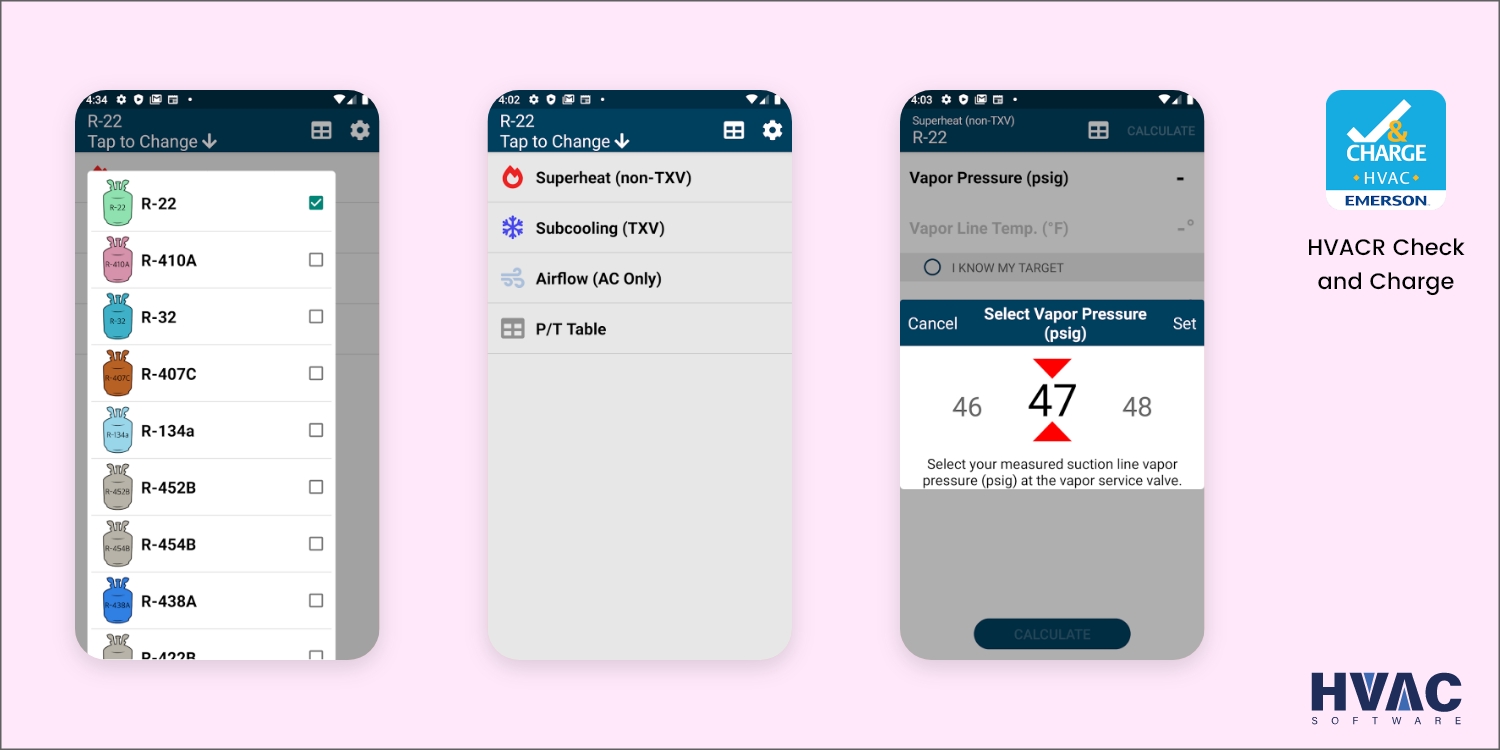 Are you looking for a straightforward on-the-job refrigerant charge calculator for your HVAC/R business?
Then HVAC Check & Charge mobile application from Emerson Climate Technologies can be your ideal choice. This HVAC app provides an on-site refrigerant charge calculator for air conditioning applications.
Since this app is based on historic sliding cardboard charge calculators, it allows HVAC contractors to calculate the correct system refrigerant charge for the following quickly:
R-22

R-410A

R-32

R-407C

R-134a

R-452B

R-454B

R-438
You can choose between different options such as Superheat, Subcooling, or Airflow and enter the specified system temperatures with the latent and sensible environmental loads.
When the values are entered, the application determines the proper system charge. It also checks if the charge amount needs to be altered based on these conditions. Like most of the HVAC applications, HVAC Check and Charge is also one of the best free troubleshooting hvac apps supported by both iOS and Android smartphones.
12. Gemaire HVAC Contractor Assist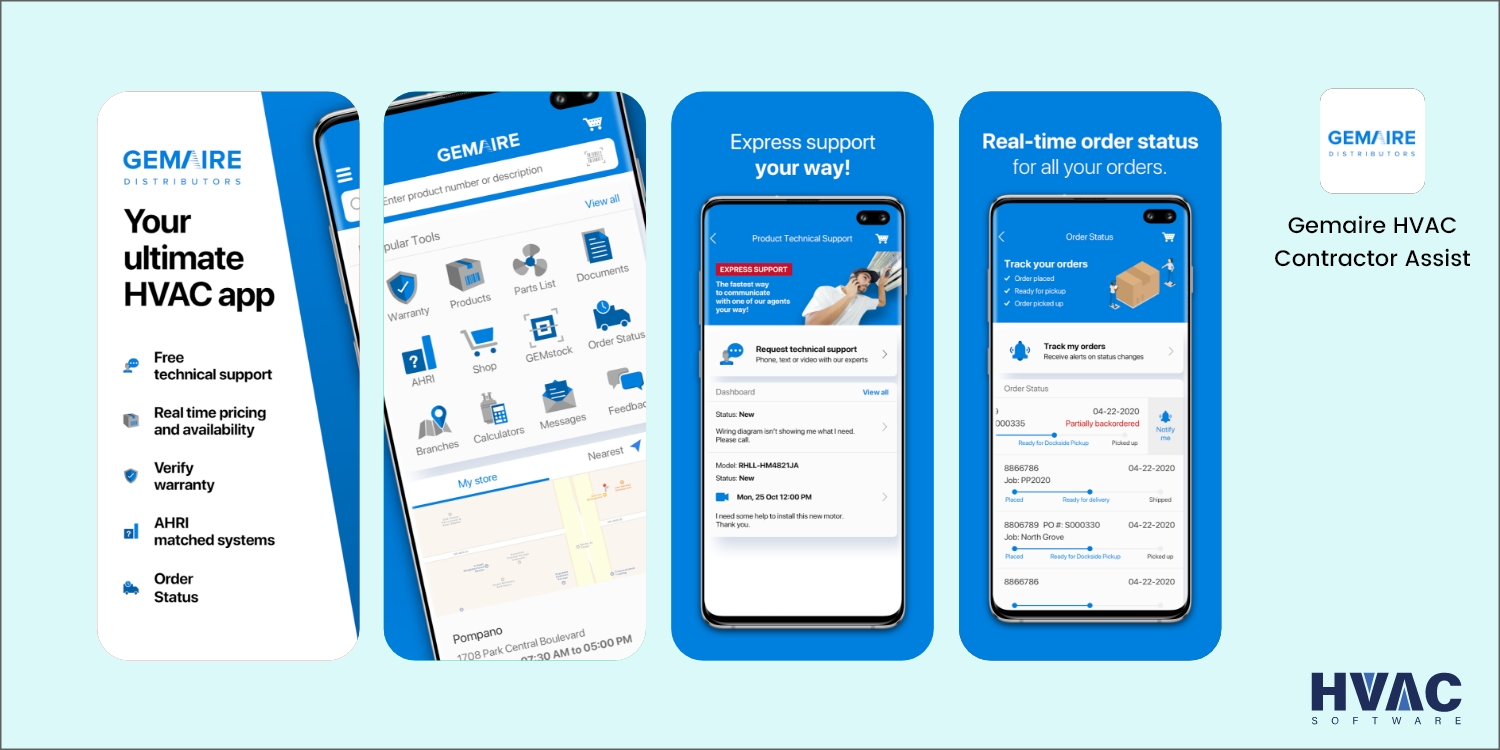 Gemaire's HVAC contractor assist application was designed by Gemaire, an independent distributor for heating, cooling, and refrigeration products for half a century. This company is widely grown into the biggest HVAC distributor in the country.
Its mobile application gives the HVAC technician various product information and tools on the phone. If you encounter any malfunction in your HVAC system, you can open this open, get the information about the product and technical support and fix the issue.
You don't have to remember your password to sign in as it features Face or Touch ID. Also, this service app helps HVAC techs check other HVAC branches' availability in real-time.
Another notable feature of this HVAC app is its extensive database consisting of wiring diagrams, spec sheets, installation guides, and consuming literature for all its Gemaire products. You can get the iOS version and Android version on the play store.
13. MeasureQuick HVAC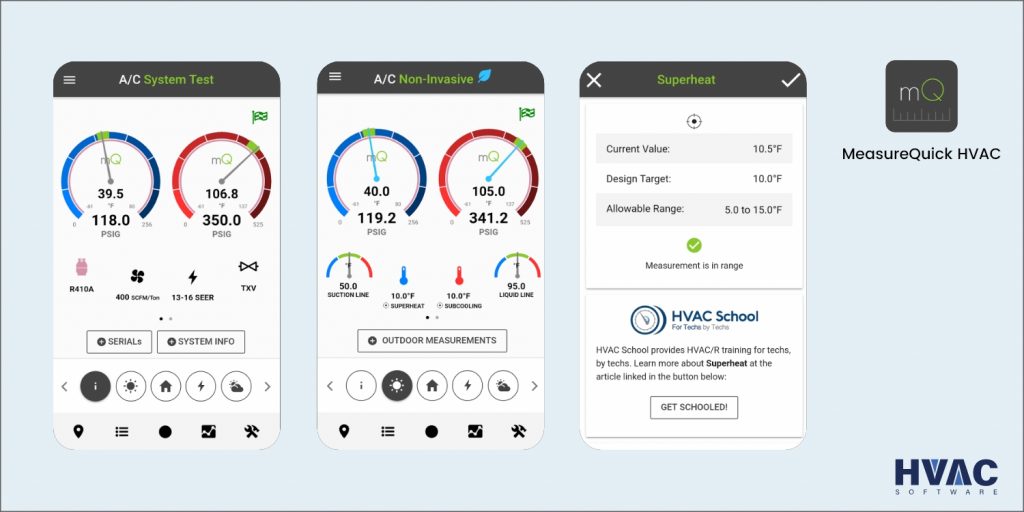 MeasureQuick HVAC isn't just another HVAC troubleshooting app. Rather, it is a comprehensive tool that collects measurements, aggregates data, diagnoses faults, analyzes systems, and, last but not least, educates the HVACR technicians.
Available on Android and iOs, this application can be a big help in finding billable faults which get missed in normal cases. So this reduces callbacks and increases revenue. Also, the HVAC business manager can compile and share HVAC system data and also helps the technicians document their work.
This free HVAC app is not limited to premium features, which can be unlocked using QBits, a digital currency. You can spend $5 per system per year to access the entire HVACR system that can help you uncover problems.
Some of its notable features are a split screen for tablet users, new PDF reporting, and an updated home screen for easy management of business tasks.
14. Air Lite Psychrometric Calcs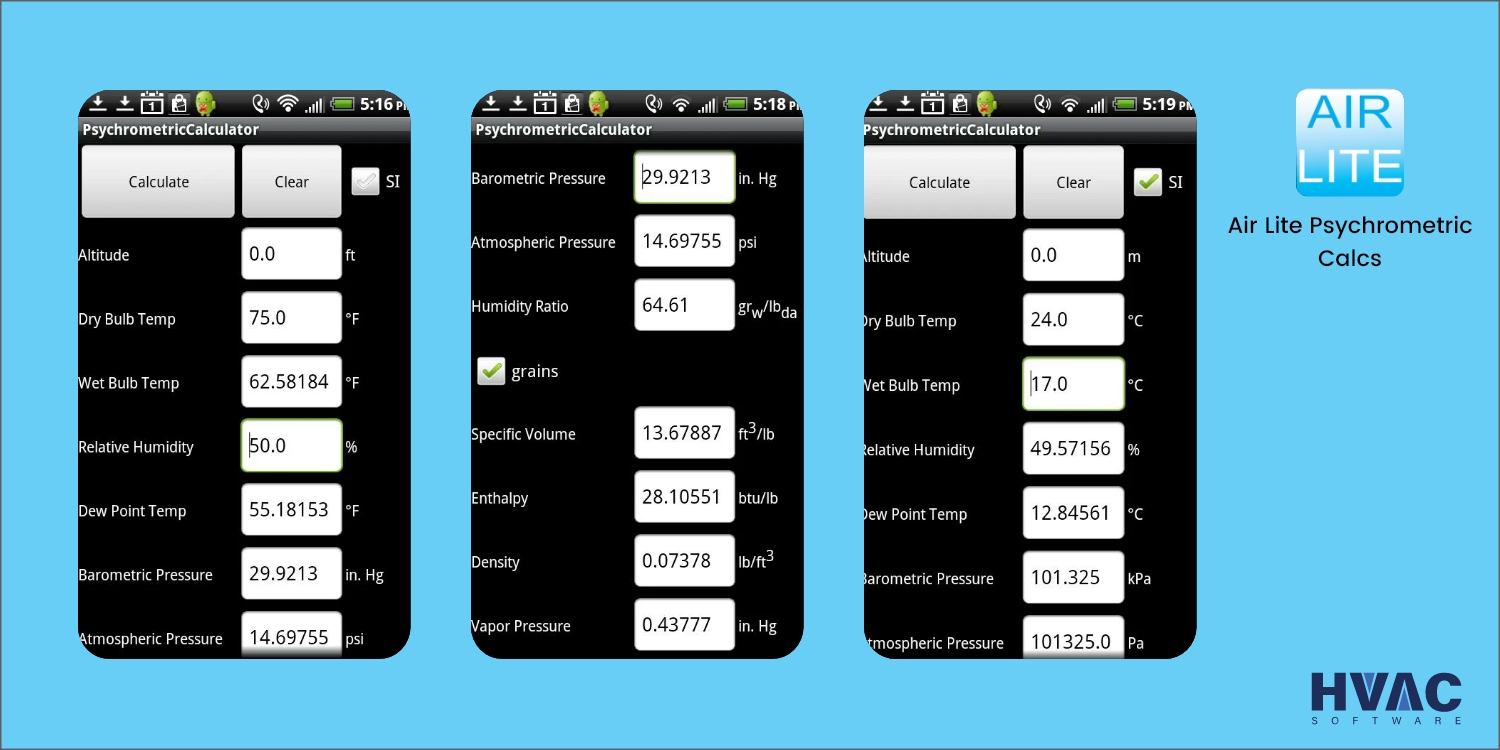 Air Lite Psychrometric Calcs is another all-in-one calculator for HVAC engineers, designers, technicians, and maintenance personnel. This HVAC troubleshooting app helps an HVAC professional calculate wet bulb temperature, atmospheric pressure, vapor pressure, and other functions.
The HVAC app displays clear details. So, the user screens are easy to use with simple lists and fill boxes. This makes calculation quick and easy. However, this application is currently available only for Android.
Frequently Asked Questions
Is the Bluon app free?
The Bluon app, which is tailor-made to help solve HVAC problems and assist HVAC techies in their work, is 100% free for techs.
Being one of the best free troubleshooting HVAC apps, it is developed to help and empower HVAC tech people with tools, training, and support to get the HVAC job done quickly and efficiently.
How do I troubleshoot my HVAC system?
Troubleshooting your HVAC system at the basic level involves checking vents, ducts, and grills for any leak or block. These simple issues can be the main cause of irregular airflow.
What are the four types of problems in HVAC?
The most common problems in HVAC systems are
Increased energy bills

Reduced performance of HVAC systems

Water leaks or blocks near the unit

Loud noise from the appliances.
What is the HVAC home app?
HVAC home apps are some of the best HVAC apps available in Android, iOS, or both operating systems. These applications help the HVAC operators, technicians, designers, and other techies to troubleshoot problems they encounter in the HVAC field.
They also help to streamline various business tasks and even track the employee's work and location.
Conclusion
Now HVAC techies can quickly detect and fix any issues efficiently with the help of the HVAC troubleshooting apps. Since the operators often work in the field, they need advanced tools to assist them remotely.
These best HVAC troubleshooting apps will help you access the information you need with a single tap on your tablet or smartphone.