From the customer's point of view, to install an HVAC system, they look for specific aspects such as price, brand, and type of HVAC system. But they don't realize that the size of the HVAC system holds more importance.
This is because the right-sized HVAC system promises comfort and energy efficiency and saves your pocket. To ensure installing the right sized system, the HVAC professional must calculate the load by considering different factors of the house. 
In those days, carrying out load calculations was done manually, and it was challenging. But with modern technology, HVAC technicians can now do them using their smartphones.
The best HVAC load calculation apps have made this possible. With these smart apps installed on their phones, HVAC professionals can quickly calculate the HVAC loads from anywhere.
If you are an HVAC technician looking to grab the best heat load calculation app, then take a look at the list of HVAC load calculator software and apps in this article. 
What is HVAC Load Calculation, and Why is it Important?
The mathematical process of measuring different aspects of a building to calculate the HVAC system's size, application, and style is called heat load calculation. 
The main purpose of heat load calculation is to ensure energy efficiency, save energy bills, and increase comfort inside the house.  
If the HVAC load calculation is not done, the right-sized HVAC system will not be installed. This leads to higher energy consumption, poor air quality, and a shorter life span of the HVAC systems.
What is an HVAC Load Calculation App?
The software application that helps in calculating the heating and cooling loads in the field while being installed on a smartphone is a heat load calculation. This application will help calculate loads only in small commercial and residential buildings in a fast manner.
Top 7 HVAC Load Calculation Apps To Use Today
1. HVAC Load Plus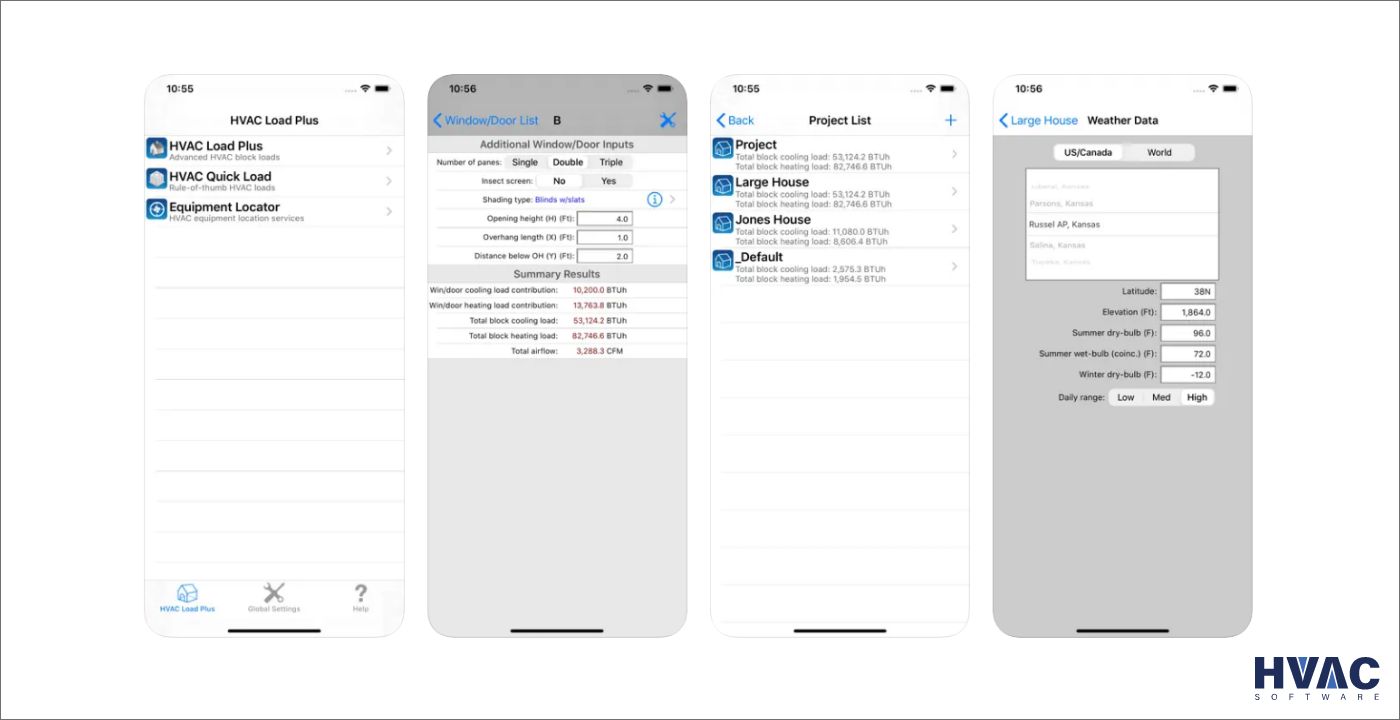 Finding the correct cooling and heating load is a chore, whether a small residential building or commercial property. The Caramel software company launched this super handy HVAC calculator app to aid the field workers in this matter. 
It helps HVAC technicians calculate the correct heating and cooling block loads for any HVAC system. By entering the relevant details such as the location, number of rooms, windows, and building construction materials of the HVAC system, you can instantly get the load calculation results. 
The biggest benefit of this app is it allows you to create an unlimited number of projects.  
This heat load calculation app contains the weather data of 100+ cities and data on structural components. Based on the included data, you can use this application for only small commercial or residential projects, as various factors should be considered for big properties.
Besides HVAC load calculations, it lets you create graphs and pie charts and use them inside the progress report or work-related data for better understanding.
You can also send the work report to your senior or other employees via email, making it super convenient for field workers. They don't need to wait for an in-person meeting to determine the ongoing problems.
Like others, this app is available in the app store and official website to be accessed directly, though it will charge you around $11.99 to avail of all premium features. 
2. HVACR Check and Charge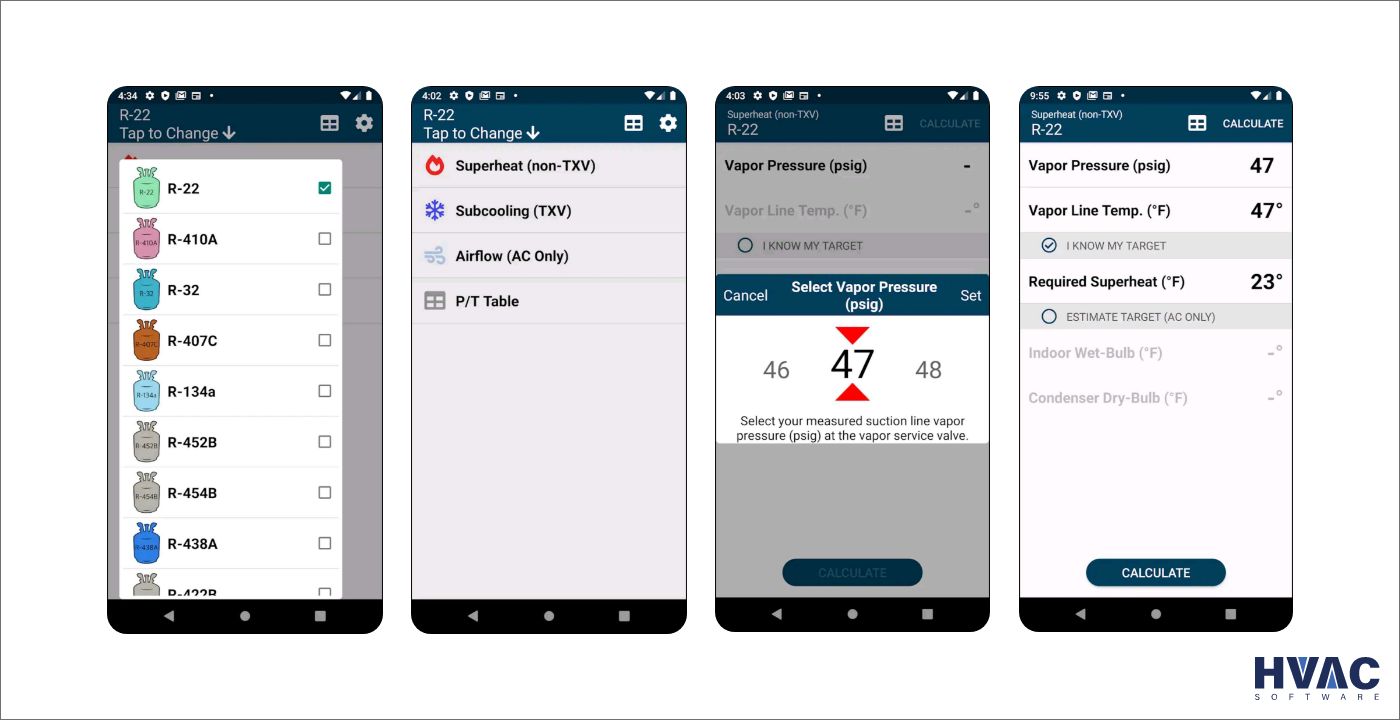 Manual refrigerant charge calculation could lead you towards overcharging or undercharging and end up with a damaged HVAC system.
Luckily, Emerson Climate Technologies launched an easy and efficient on-site refrigerant charge calculator for air conditioning and refrigeration applications. 
With an easy-to-use interface, this calculator app determines the charge limit, indicates the depleted levels, and figures out the factors; that have depleted the sufficient resources. 
The application calculates airflow and targets superheat for fixed orifice expansion devices. For calculating the correct system charge, it requires some information, such as the system temperature with sensible and latent environmental loads.
The best part is that the app exclusively offers superheat and subcooling calculations for 26 refrigerants, specifically for the R-22, R-410A, R-32, R-407C, and R-134a refrigerants. It also indicates if any alterations are needed based on the cooling conditions.
This free-to-use handy tool just simplifies the jobs of HVAC workers, as well as enhances accuracy in the workflow. You can install this HVAC app on both iOS and Android smartphones. 
3. Duct Calc Elite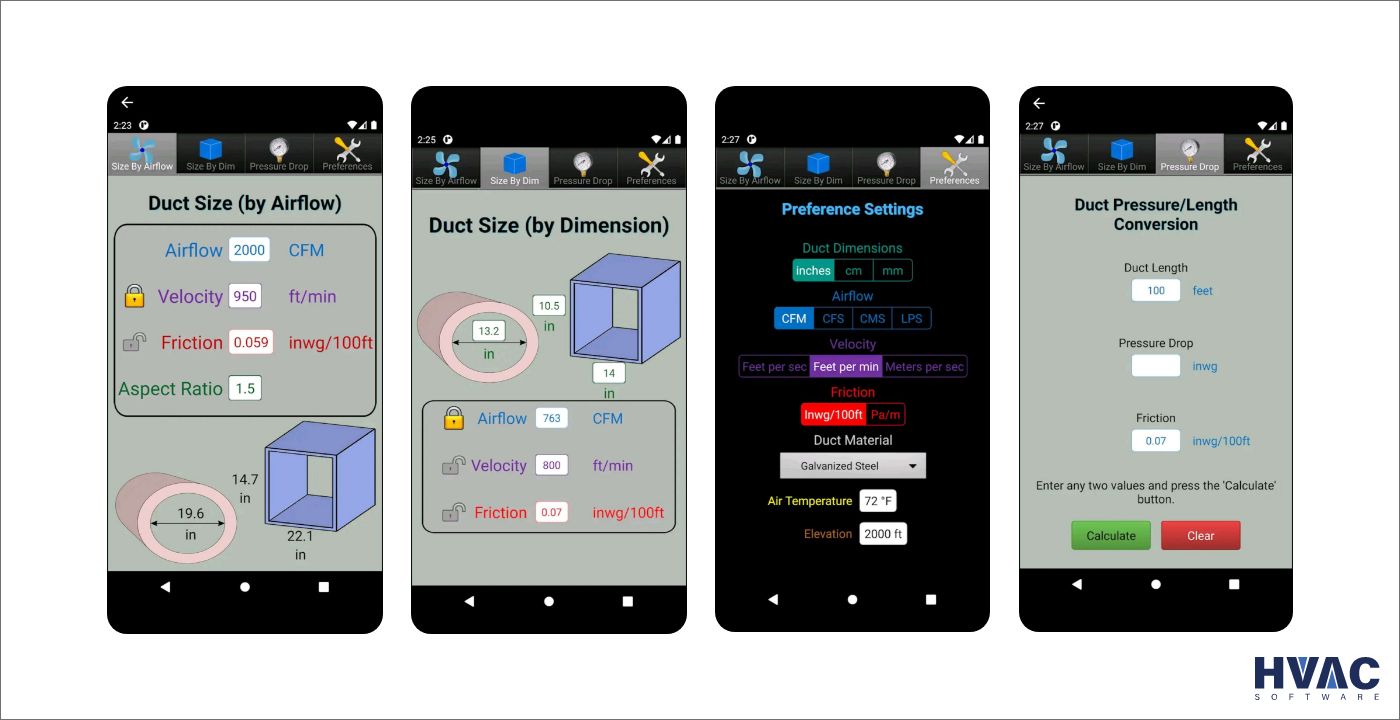 Small ducts force the entire HVAC system to work more to keep the projected area cool or heated at the desired temperature; hence, the system could get damaged due to overload. Conversely, the big duct negatively affects velocity, restricting the system from providing the most out of it through the vents.  
Calculating the proper duct size isn't a chore for those who use this handy Duct Calc Elite. It's one of the most efficient HVAC calculator apps you can rely upon without a second thought. 
You will get the accurate measurement suggestion; if you input the right information on the square footage of each room and the entire property, cubic feet per minute, and existing friction loss rate. 
This app will let you enter this information with various units with an intuitive, user-friendly interface. It offers various unit options for elevation, velocity, airflow, air temperature, pressure loss, duct dimension, and input options for duct material.
Apart from these unit input options, it offers multiple calculation modes, like – airflow mode, dimension mode, and pressure drop mode, to ease the HVAC load calculations and enhance the accuracy level. You can install this application on your iOS or Android smartphone. 
4. HVAC Superheat Calculator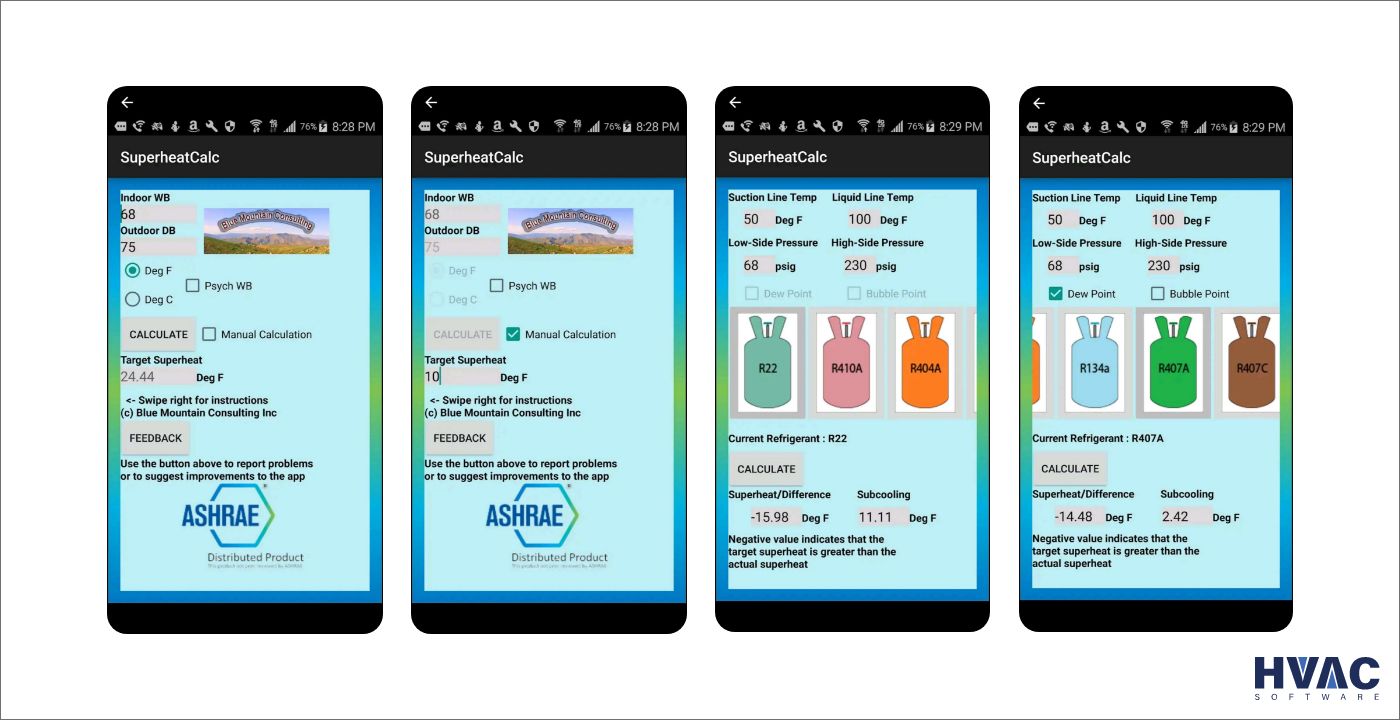 Measuring the exact superheat values on different temperature points is important to keep running the HVAC, specifically the air conditioning devices, efficiently and prevent damage from all possible HVAC issues. 
As you know, small amounts of liquid could cause detrimental damage to the compressor of your HVAC system. But, you can ensure that the entire refrigerant; entering the compressor is free of liquid with this super-handy HVAC Superheat calculator.
Also, although the application also offers manual HVAC load calculations, using this calculator you can also automate the calculation process to set a custom target.
Another best part of this HVAC load calculator app is you will get over 100 refrigerant options and an associated pressure temperature chart to hit the best diagnosis. 
The application has a very easy-to-use interface; plus, you will get detailed instructions on using the app. 
You can also consider it one of the best HVAC troubleshooting apps. You may have noticed that most clients come with overheating issues. If you have this application on your mobile device, you can easily determine whether the excess heat is overheating or not and take steps accordingly.   
5. Bluon HVAC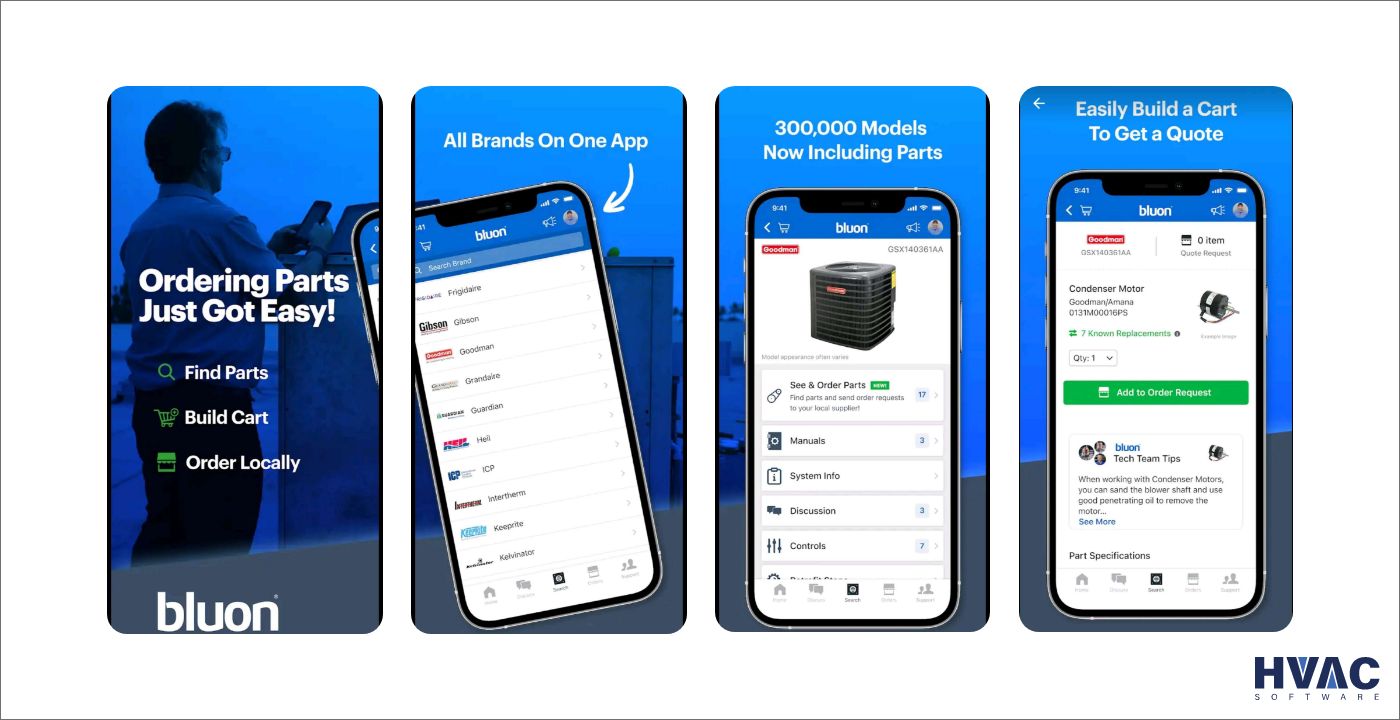 The Bluon HVAC is another great application that lets you accurately calculate the maximum heating and cooling loads for residential and commercial buildings.
The best part of Bluon HVAC is it empowers the HVAC technicians with everything. From accurate calculation tools to training on the usage, including 24*7 support, you will get everything you need to get the job done faster when you open the app.
Like other HVAC load calculation apps, it also helps you calculate the airflow, subcooling, and superheating loads just with a few clicks. In addition to that, you will get a nitrogen pressure test tool, which is missing in most HVAC load calculation apps.
Not all applications have included the environment-friendly R-22 alternative refrigerants, unlike Bluon HVAC. So, we suggest using only this HVAC load calculation app if you're going to take up a project based on environment-friendly cooling or heating devices. If this application sounds interesting, then install it on your Android or iPhone now. 
6. Hytools Calculator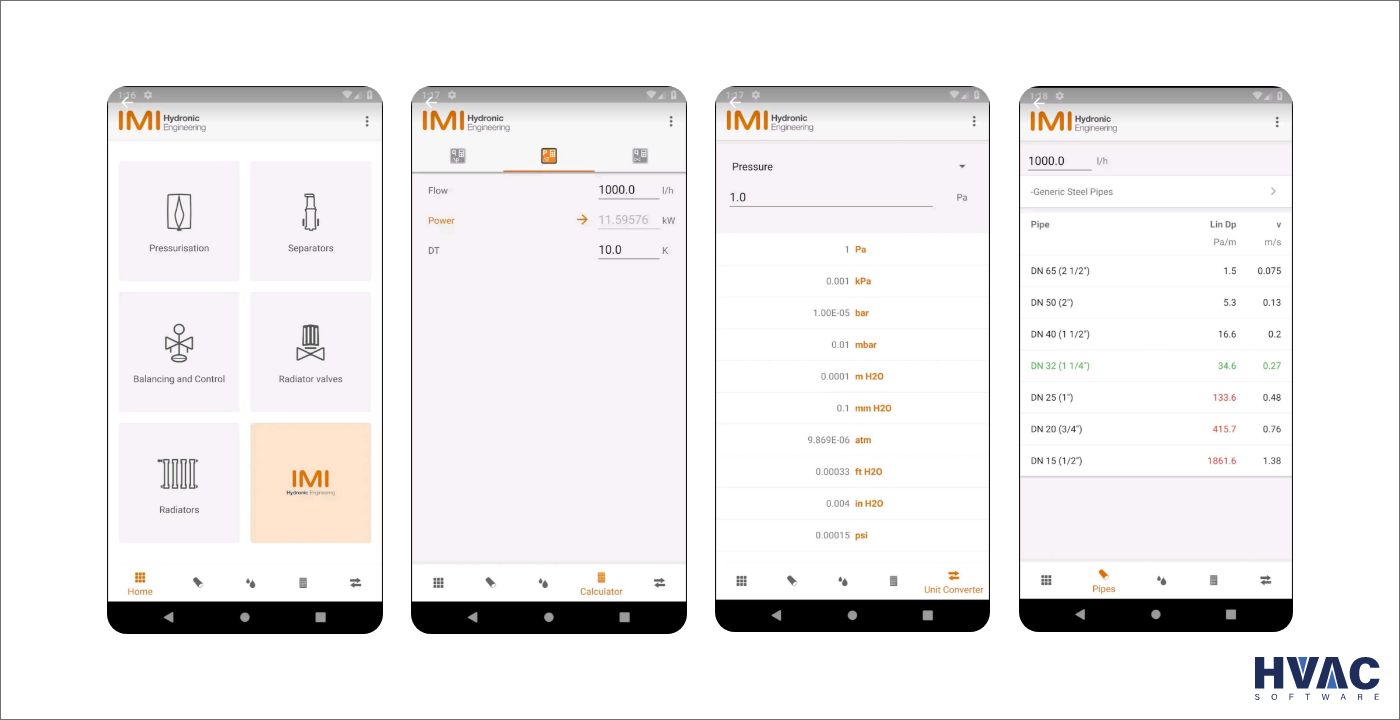 HVAC engineers calculate heat load, airflow, and other complicated hydraulic calculations before designing air ducts. Thanks to the Hytools, that easily helps to measure every complicated thing, like – pipe and valve sizing, radiator power and sizing, air pressure maintenance, pressure drop, and controls. You can get this HVAC calculator app via the App Store or Google Play Store.
The upgraded version includes a few important aspects, like – the pressurization system and vessels based on the pumps and compressor. So, you can easily determine how to design the duct and the proper air conditioner cooling capacity needed for the home or commercial buildings.
Due to the enhanced applications, it may take a bit extra time to load or calculate anything. The run time could challenge your patience sometimes, but the accuracy level will win over you by the end of the project for sure.  
7. HVAC Buddy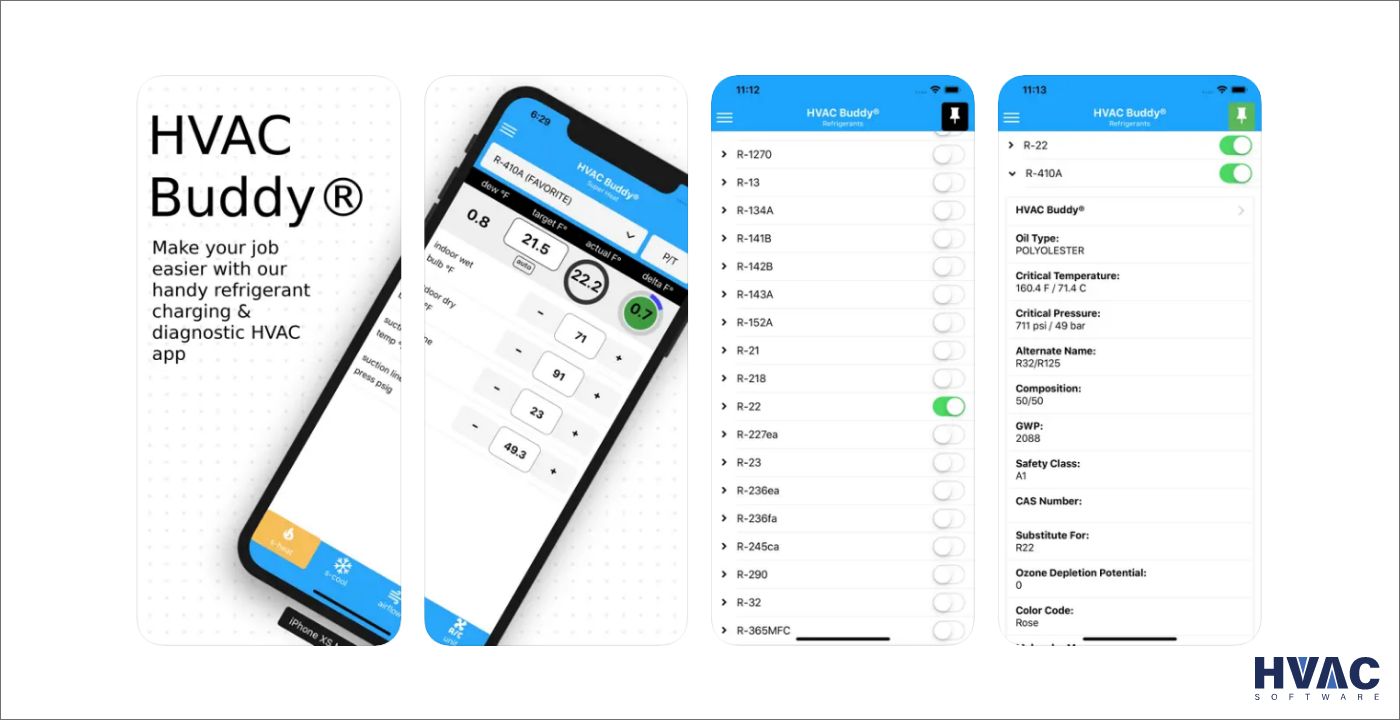 When you're investing in something, you always expect better. HVAC Buddy won't let down your expectations. Along with the mandated calculations of refrigerant charge, superheat, and subcooling load, it lets you efficiently calculate airflow, TEET, and Delta-T value for extra safety. 
A high delta-T value could lead the HVAC system to the incorrect fan speed or dirty air filter; it could even cause system malfunction. The easy-to-use interface and detailed step-by-step instructions make these apps super easy to use. 
Your team could determine the correct refrigerant, target superheat, and subcooling point in no time. The pressure-temperature tables for 71 refrigerants are a great add-on to this load calculator app. So, no more carrying around a P/T chart in your pocket or wandering around the internet in search of this important chart.
Moreover, the tool for making status reports and sending an e-mail enhances its utility in the HVAC field. I think there is no one; who wouldn't like to have multiple features in a single application.
Frequently Asked Questions
Why is load calculation important?
The HVAC load calculation helps HVAC professionals consider the particular thermal characteristics of a home to calculate the exact requirements of heating and cooling to maintain a preferred temperature of the customers.
How to calculate HVAC load?
To calculate HVAC load, you can use this formula,
(House surface in square feet) x (height of the ceiling) + (Number of occupants) x 100 BTU + (Number of exterior doors) x 1,000 BTU + (Number of windows) x 1,000 BTU
By summing up these values, you get the final HVAC load value.
What are the different types of heating and cooling loads?
There are different types of heating and cooling loads, such as 
Design load: HVAC engineers calculate the design load of structures. This includes the building layout, energy efficiency, and solar orientation. Houses that consist of insulation, thermal windows, and air infiltration have low design loads. 
Extreme load: HVAC engineers consider the size of HVAC equipment as extreme load. 
Part load – The combo of design load and extreme load is part load.
What are the factors that affect the heating-cooling load calculation and design?
Various sources affect the HVAC design and load calculations.
The heat is gained by the house walls, roof and partitions, windows, and outside air.
The heat generated by the people and electrical appliances also affects the load calculations.
Conclusion 
If the HVAC system is oversized for the house, it consumes more power, causes inefficiency, short-cycling, and fails to give the consistent temperature a properly sized system could give.
Meanwhile, if the HVAC system is undersized, it is also a problem. Instead of short cycling, the HVAC system will have a long air conditioning cycle, which is again a problem. Also, small-sized systems are prone to breakdowns, and constant maintenance is required to keep them from running optimally. 
So all these problems arise when you don't calculate the HVAC load for the house before installing the system. Now that you've read the list of best HVAC calculator apps, you can get an estimate of the heat load and pick the right sized HVAC systems for the house fast and efficiently. You can go through these best HVAC apps that are very useful for service technicians. Thanks for reading through!